Biometric Solutions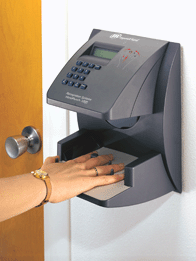 IR Recognition Systems - Hand Punch 1000


The employee clocks in and out by simply keying in their pin code and placing their hand in the Terminal, the hand punch scans the shape of their hand, identifies the employee and records their clock time all within seconds.
The reader eliminates the occurrence of unauthorised employee clocking and the need for costly swipe cards.
The hand punch uses field proven geometric biometric technology. The terminal captures a three dimensional image of the hand each time the employee punches.
The hand size and the shape are used to verify their identity with unparallel accuracy. No fingerprints or palm prints are utilised.
Green and red lights notify the employee of the status of each punch. There is no question any more employees have to be there to punch.
To view the brochure for the Hand Punch 1000