Access Control Systems - Timeware ADT edition
Overview
Hardware

Standard TCP/IP terminals with Proximity Readers for T&A Software.
Standard TCP/IP terminals with Proximity Readers for Access Control.

Software

T&A Software can be directly linked to your payroll system.
The Sofware can be set up to allow you to divide the employees into departments for management purposes.
Each department will need a supervisor to be responsible for making corrections to their department e.g. situations where people clock in but do not clock out, infringements, etc.
Employees can clock in and out several times a day e.g. lunch or break time.
The software can produce daily or weekly variance reports, absence reports, etc.
Clocking on and off for office staff using PC Log on.
Requirements
Suggest fire alarm relays (1/0) at internal doors which will open automatically in the event of a fire alarm.
Require 230v 13amp UN switched fused spur outlet with neon light for each location.
Category 5 shielded network point for each location.
The Time Recording System allows us to produce reports to meet your specific requirements.
Gallery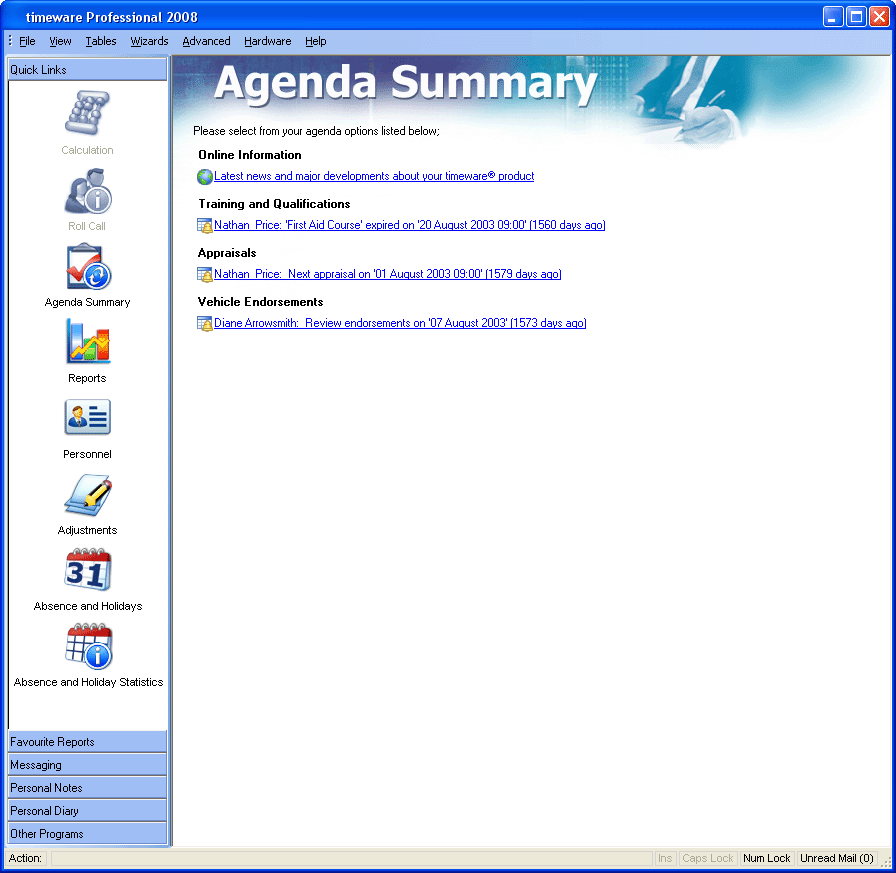 - Click a thumbnail screenshot image to enter gallery mode -
Screenshots
(Click to view)
Features
Attendance
Comprehensive flexitime, rotational and shift based features.
Choose from a wide selection of standard break types, overtime rules and working rules that suit your needs.
Shift patterns can be modified by using the timeware® script editor to cope with bespoke overtime and attendance rules.
The pro-active agenda screen lets you know when anomalies such as missed clockings, latenes,absences etc. have occured.
Automatically flag overtime etc. so that authorisation is required by managers and administrators.
Incorporates PIP technology(see below).
Absence and Holidays
Comprehensive absence and holiday booking wizards to ensure required information has been entered correctly.
Detailed statistical information is available while booking absences, this will allow you to keep good staffing levels and ensure that employees cannot take more than their entitlement.
Timeware® 6 can automatically renew your absence entitlements for you each year, taking into account any days that need to be carried forward from the previous absence year.
You can setup absence entitlement groups with special rules for new starters and long serving employees.
Incorporates PIP technology(see below).
Personnel
Comprehensive personnel database.
Store unlimited training details, disciplinary details, vehicle details etc...
Use the personnel wizard to quickly set up new employees, ensuring that all the required information has been added correctly.
The pro-active agenda screen lets you know when qualifications, review dates etc. are about to expire.
User defined fields allow you to hold unlimited amounts of information specific to your company that is not included in the other personell modules.
Print blank forms for new starters so that employee information can easily be collected.
Access Control
Comprehensive access control features.
Keep track of your employees with real time monitoring.
Use the alert center to be immediatly notified of failed entry attempts, doors that are ajar and doors that have been forced. Perfect for security guards and system administrators.
Keep an archive of all door activity for future reference.
Quickly disable lost and stolen badges.
Reporting using Crystal XI
Generate historical reports over many time periods allowing you to calculate grand totals with ease.
Quickly filter and narrow down the information on your reports to provide you with exact and focused information.
Change the appearance of your reports without using any additional report designer software by using the built in appearance settings.
Hide irrelevant information on your reports with simple appearance settings - saving you paper and making reports easier to read.
Export your reports to many formats including Excel. PDF and HTML for publishing on your corporate internet/intranet sites.
Email your reports to your collegues with a choice of various formats.
Merge employee information with MS Word format templates for letters or contracts.
Produce charts, graphs and reports from your employee data and export information to MS Office applications. Many different reports and queries are already built in, and you can add your own.
PIP (Personal Information Portal)
Give your employess read-only access to their own attendance information and let them check the staus of pending absence requests from home or anywhere on your nework.
Allow employees to check how many holidays they have left without them contacting the HR department.
Employees can add attendance bookings from within the PIP, allowing employees to work from home or clock in using a browser on your network.
Associated Links